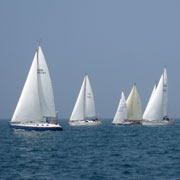 The CCRC Open Weekend is for CCRC Members and Non-Members. Our aim is to share the enjoyment of cruiser racing even more widely. So we invite yacht owners and crew to join us for the weekend or just for a day. You can take part in a number of different ways, and for any or all of the series of races (Race 11 on Saturday 9th June, and Races 12 and 13 on Sunday 10th June).
Detailed Race Instructions and the programme for the weekend can be viewed here.
Non-Member Yacht Owners
You can participate in this CCRC Open Weekend and experience yacht racing in a number of different ways.
You could simply race your own yacht as a guest boat in one, two or all three races of the series.
To do this simply complete the guest boat entry form, ideally specifying the races you expect to participate in.
or
You could crew with a CCRC member on the Saturday and then race your own yacht for the Sunday races.
To do this please complete both the crewing request form and the  guest boat entry form.
Once accepted we will discuss details with you including whether you wish to join us for the DIY BBQ at Northney Marina.
As a Guest Yacht Owner taking part in this event you will receive a 0.02 improvement in handicap for this race series which will aid your final position.  CCRC handicaps are easy: either VPRS for our Alpha fleet or an allocated handicap from the RYA National Handicap for Cruisers system. Unlike many "Open" races, there is no fee to take part but guest boats are not awarded club trophies.
Non-Member Crew
You can join our crew register for the year and maybe get invited to this event or others by completing this form.
CCRC Members
Current members can participate in the usual way (through the booking system) but by taking new crew (as defined separately to members) you gain a 0.02 improvement in handicap (whether Alpha or Beta fleet) for all three races.