CCRC & HISC Joint Channel Crossing & Cruise
Ever wanted to cross the Channel but feeling a little daunted and would like guidance and company on the crossing?
Ever thought it would be good to have the support of a pre-passage briefing and have arrangements made for "the other side"
Ever wondered how your passage time compares with others?
Then this is the event for you.

Chichester Cruiser Racing Club and Hayling Island Sailing Club are working jointly to provide a cross-Channel rally open to members of either club and is also open to non-members.
Key Event Features
Cross-Channel briefing meeting (at HISC)
Race (with CCRC) or Cruise (with HISC) in company across on Friday 22nd May 2020
Rally berthing and social events in Cherbourg
Cruise in company return on Monday 25th May 2020
or
Cruise in company onwards including French and Channel Island visits with CCRC, returning the following weekend
The CCRC Race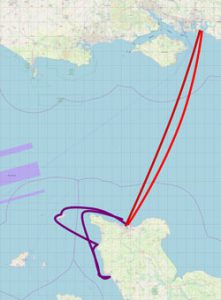 The race is a simple point to point race from Chichester Harbour to Cherbourg; with a start and finish at a buoy close to each entrance. The entire race should be in daylight and will be shortened if necessary to ensure a result. Participants can race under VPRS or NHC handicaps with the latter being easily available and free of charge.
Non-members of CCRC may participate as a Guest Entry.
The HISC Cruise-In-Company
Support for participants will include assistance in passage planning and equipment considerations, a pre-cruise briefing, a radio watch on passage.
These will also be available to those racing.
There will be optional events for race and cruise participants in Cherbourg during the weekend.
The CCRC Cruise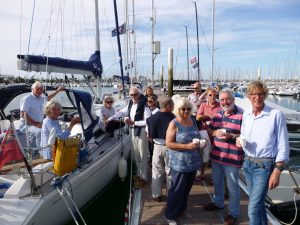 The CCRC Cruise is an annual event starting with the race across the Channel and then cruising onwards together for a week. Each passage is made as a group though participants can join or leave the cruise as and when they wish. At each port visited we can enjoy social events (some of which will be pre-booked) such as drinks parties, dinners (perhaps including a barbecue or safari supper), competitions (such as boules and golf), and visits to tourist attractions.
The cruise for 2020 plans to sail onwards from Cherbourg to visit Braye (Alderney) and Carteret (France) with an overnight in either St Peter Port or Dielette for tidal reasons. We return to Cherbourg prior to the crossing back to Chichester the following weekend.
Braye
Alderney is a ruggedly attractive island with interesting historical sites and natural beauty. Braye harbour has numerous mooring buoys and an anchoring area. There is a water taxi to take us ashore. Our visit to Braye is timed to coincide with their Alderney Coastal Path Challenge – a 5 or 10 mile run or walk. You don't need to take part but it should be interesting. It is also the weekend of their Performing Arts Festival and the start of their Wildlife Week. So plenty is happening – www.visitalderney.com/see-do/events/.
Carteret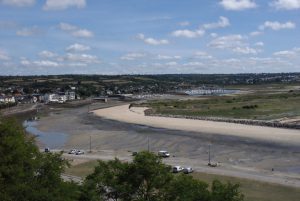 Carteret is a small but lively and up-market resort town with a number of good restaurants and touristy shops plus a superb beach and cliff top walks. On our full day there the large market comes to town in an area north of the main street where we might buy food for a barbecue at the welcoming yacht club.
St Peter Port or Dielette
Two very different ports but they share a wide tidal access which is necessary for one of our passages. Which we choose to visit may depend on the weather and will depend on the views of rally participants.
Interested?
Cruise Across
To book for the HISC Cruise in Company across the Channel with HISC contact HISC's Rear Commodore for Cruising (rearcommcruising@hisc.co.uk).
Race Across
If you wish to take part in the CCRC Cross Channel Race but are not a CCRC member you should complete a guest entry at www.ccrc.co.uk/guest-entry. If you are a CCRC member simply book the cruise as below.
Cruise Onwards
To book to cruise onwards from Cherbourg, whether racing or cruising across, go to www.ccrc.co.uk/events/spring-cruise-2020.
If you have any queries please contact either CCRC's Commodore (commodore@ccrc.co.uk) or HISC's Rear Commodore for Cruising (rearcommcruising@hisc.co.uk).