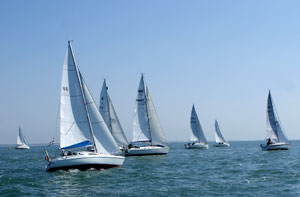 Members of yacht Owners' Associations are invited to a one-off race between members and their associations.
This is intended to be a fun event to promote on-the-water competition and socialising between the participants and the Owners Associations. Following the race, participants are invited to gather in Cowes Yacht Haven and attend a prize-giving dinner.
The event is organised by Chichester Cruiser Racing Club which has organised races for boats in the Chichester Harbour area for over 70 years.
---
The Event
Saturday 9th May 2020
A yacht race in the central Solent
Optional dinner and prize-giving in Cowes
Some more details
Entry fee just £15 per boat
Handicapping will be using RYA NHC base numbers (or derived numbers for those not listed)
Book for the race, for marina berth and/or for dinner places
The race is planned to start at 11am in the vicinity of Ryde Middle Bank
Depending on the numbers taking part the fleet may be subdivided
The Notice of Race and Race Instructions will be issues to entrants closer to the time but will be based CCRC's standard documents. Class flags will not be essential.
Interested?
If you have any queries please contact the CCRC Commodore using our contact form.