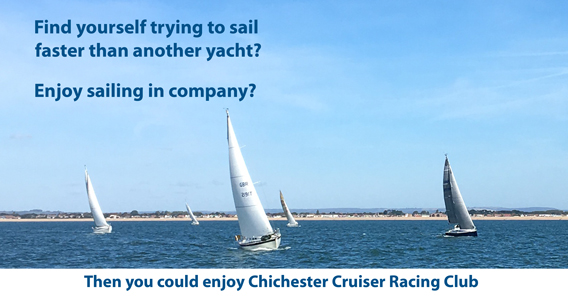 Do you ever find yourself trying to sail faster than another yacht?
Most of us do as it's interesting to see what a little sail adjustment can do.
If you do, and you enjoy the social aspects of sailing in company then CCRC could be for you.
Chichester Cruiser Racing Club is dedicated to cruiser racing with weekend races in Hayling Bay, the Solent and beyond. We are also committed to providing full and friendly assistance for those interested in or new to racing.
To provide an introduction to cruiser racing the CCRC is holding a short seminar to give an overview of what you need to know as well as allay any misconceptions you may have (you don't need crew lined up on the rail, nor a gorilla at the winch!).
Seminar Details and Booking
Cancelled due to COVID-19 epeidemic
Saturday 18th April 2020
0930am for 10am start
and held at Hayling Island Sailing Club, Sandy Point, Hayling Island, PO11 9SL.
In a couple of hours, our seminar will offer an overview of:
Sail and boat preparation and trim
Handicapping
Starts, Course and Finishing
Racing Rules of Sailing
CCRC races and our social side
Q&A
Refreshments will be provided and all attendees will get a copy of the presentation to take away.
Book Now
To book, simply complete the form below and click "Submit".
After a certain number of bookings have been received then a small charge may be made to cover some costs.

Many questions will be answered on other pages on this web site but here are some common queries:
How long will the seminar last and who will present it?
We aim to conclude the seminar, including questions and discussion, within 2 hours. All the presenters will be CCRC members.
Do I need a fast yacht?
CCRC races cater for all types of yacht (other than multihulls) which can be described as cruisers. Our two handicapping systems mean that all participants have a chance of success.
Is membership expensive?
Personal membership is just £20 p.a. and yacht registration costs just £50 p.a.
Do I need a big racing crew to be competitive?
No. Some members sail competitively single-handed.
Where is the club based?
CCRC was originally set up by the Chichester Harbour Federation of Clubs, as such we work with other clubs in the harbour and have no club house of our own. You do not need to be a member of another club though many members are.
Where do races take place?
Each year about half of our weekend races take place in Hayling Bay (Bay Races) with members returning to the harbour over Saturday night; other races are typically to a destination within the Solent where we generally have dinner (and results) at a yacht club.
You do not need to be based in Chichester Harbour to be a member – though it helps!
Do I need special yacht insurance?
All yachts participating in a CCRC race must be insured. Most insurers will include club racing at no extra cost on an annual policy.