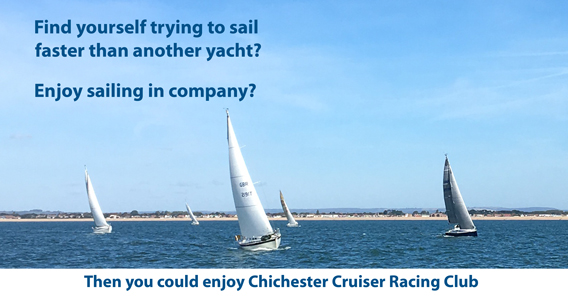 Do you ever find yourself trying to sail faster than another yacht?
Most of us do as it's interesting to see what a little sail adjustment can do.
If you do, and you enjoy the social aspects of sailing in company then CCRC could be for you.
Chichester Cruiser Racing Club organises weekend races in Hayling Bay, the Solent and beyond – as well as other social events. We aim to provide full and friendly assistance for those interested in or new to racing.
CCRC is repeating its seminar "Introduction to Cruiser Racing" in 2020. This short seminar will give you an overview of what you need to know as well as allay any misconceptions you may have (you don't need a performance yacht, nor a crew lined up on the rail or a gorilla at the winch!).
Seminar Details
The seminar will take place on the morning of Saturday 18th April 2019 at a venue around Chichester Harbour.
In a couple of hours, our seminar will offer an overview of:
Sail and boat preparation and trim
Handicapping
Starts, Course and Finishing
Racing Rules of Sailing
CCRC races and our social side
Q&A
And a chance to sail with us (see below)
We will also invite attendees to join us in that weekend's racing on your own yachts*, and/or for a limited number as crew on CCRC member yachts. You might even crew on the Saturday and race your own yacht on the Sunday. You can then experience a real race and meet more CCRC members.
* Assuming the yacht conforms to our membership limitations e.g. a monohull <15m length overall.
Interested?
Registration is not yet open but you can express your interest now. We will then inform you as soon as booking is open.

CCRC will not disclose your details to third parties nor use them for anything other than as stated on this form. See CCRC Data Privacy Policy
Further questions?
Many questions will be answered on other pages on this web site but here are some common queries:
How long will the seminar last and who will present it?
We aim to conclude the seminar, including questions and discussion, within 2 hours. All the presenters will be CCRC members.
Do I need a fast yacht?
CCRC races cater for all types of yacht (other than multihulls) which can be described as cruisers. Our two handicapping systems mean that all participants have a chance of success. You don't need to have a spinnaker.
Is membership expensive?
Personal membership is just £20 p.a. and yacht registration adds just £50 p.a. Depending on the fleet you choose to sail in there may be an extra £20 for a handicap.
Do I need a big racing crew to be competitive?
No. Some members sail competitively single and double-handed.
Where is the club based?
CCRC was originally set up by the Chichester Harbour Federation of Clubs, as such we work with other clubs in the harbour and have no club house of our own. You do not need to be a member of another club though many members are.
Where do races take place?
Each year about half of our weekend races take place in Hayling Bay (Bay Races) with members returning to at harbour venue over Saturday night; other races are typically to a destination within the Solent where we generally have dinner (and results) at a yacht club. We also have a cross-channel race as the start to our Annual Cruise.
You do not need to be based in Chichester Harbour to be a member – though it helps!
Do I have to race?
Of course the purpose of the club is to arrange races but not all members participate in every event by racing. Circumstances might mean they just cruise and partake of the social side of a rally.
Do I need special yacht insurance?
All yachts participating in a CCRC event must be insured. Most insurers will include club racing at no extra cost on an annual policy.