Date/Time
Date(s) - Fri 11/10/2019
10:45 - 14:30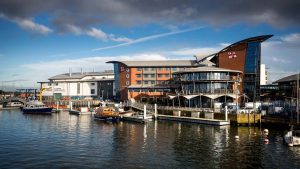 This year's Commodore's Bender offers the chance to visit the RNLI in Poole. Here we will learn more about how RNLI crews and lifeguards are trained with a behind the scenes 90 minute tour. Each tour is conducted by a dedicated volunteer tour guide, providing a passionate and insightful look at the work they do. We will explore the RNLI College and its training facilities, including the world-class Sea Survival centre, which hosts the wave tank and ride the Lifeboat simulator (subject to availability as it is currently undergoing maintenance). This tour has excellent reviews and we will also have a two course hot buffet lunch in their restaurant which has great harbour views all for a total cost of £25.75 per person.
Some members, including Intrepid, may choose to sail to Poole but otherwise it is a 55 mile drive from Havant to the RNLI in Poole. Travel, berthing, car parking is of your own arrangement. Let the Commodore know if you hope to sail so we might look at sailing in company.
Bookings are only accepted from CCRC Members (but don't forget to invite your crew too) who will receive a booking confirmation by email once their booking is approved.
If the booking form does not appear below then it is past the booking deadline.
Payments of £25.75 per person to be made by bank transfer to CCRC (Sort Code: 40-47-08, Account No.: 82115980) for confirmation of booking.
Mention any diet or allergy issues in the Comments box.
If you have a problem then email webmaster@ccrc.co.uk.
You will receive an email on submission of your booking and another once the booking is confirmed.
If you return to this page after booking then it will remind you that you have already booked.
Booking Options
If you are already logged in to the site it may not ask for your information but simply offer you the chance to comment (which you don't need to) and book by clicking "Send your booking".
Bookings (in terms of berths and menu selections) are closed for this event; unless otherwise stated you can still race and/or make your own arrangements.