CCRC News
New CCRC Documents
New documents have been released for this years racing. These include new Notice of Race, new Sailing Instructions, and new list of Solent Marks (which includes some important changes and additions).
Seminar – Introduction to Cruiser Racing
Yesterday's CCRC seminar "Introduction to Cruiser Racing" went very well. Feedback from attendees was very positive: "an excellent and most interesting set of presentations", "an enjoyable morning", "most informative and entertaining", "learnt a lot". And the presenters seemed to enjoy it too with some verbal sparring over which Westerly was the fastest!
We may do it all again next year!
CCRC Celebrates 70th Anniversary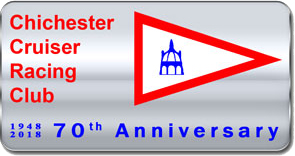 2018 marks the seventieth year of the Chichester Cruiser Racing Club. The Club will have special activities looking forward and looking back and events for members and non-members alike.
Revised 2018 Programme
There have now been changes made to the CCRC Racing Programme for 2018 following feedback at the AGM and after the December newsletter. In particular: the first sailing weekend with Fitting Out Supper is postponed to 21st April, one racing weekend is moved from April to May, and one Bay weekend is now Passage.