CCRC News
CCRC Open Weekend: 9/10th June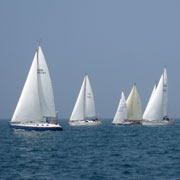 Come and join a CCRC race weekend to experience cruiser racing.
Non-members could enter your yacht for the whole weekend or experience Saturday's race crewing on a CCRC yacht and then participate yourself in Sunday's two races.
CCRC Cross Channel Race and Cruise
Now that the 70th Anniversary celebrations are over, it is time to sign up for the Cross Channel Race on Friday 25th May and the Cruise in Company.
Details are posted on the Programme page with options depending on the wind direction! We\'re trying a less organised approach this year but the race over will be fiercely competed and the company will be terrific.
If you have missed out on one of the highlights of the CCRC calendar, sign up now.
Crewing with CCRC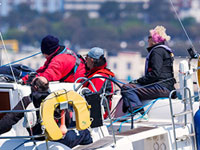 Some CCRC Skippers sometimes need extra crew for our events. Crew can have a great time and further increase their own experience. To enable skippers and crew to 'connect' we now have a Crew Register so your details can be shared with skippers.