CCRC News
The CCRC Autumn Programme Is Nigh!
Welcome back after your summer break for the CCRC Autumn Series with Bay Races (so in Chichester Harbour for the Saturday night) and Passage Races (to Gosport, Southampton and Bembridge). Watch out for the Race Instructions and then book. Guests welcome.
Clocks Back Event
The CCRC Clocks Back event this year goes back to the year the Club was formed: 1948. So the race to Cowes for dinner at the Folly Inn will forbid the use of modern technology such as plotters, GPS etc. Details to be in the Race Instructions.
Commodore\'s Bender
The Commodore\'s Bender aims to provide members with a memorable and different event. For this year, being our Club\'s seventieth anniversary, we will run a race with similar rules that of a Club race in the 1950s; in particular the finish time is fixed but the route is up to each skipper. More details to be in the Race Instructions. This will be followed by a Safari Supper.
Crewing with CCRC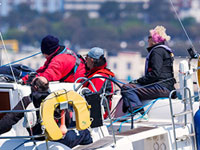 Some CCRC Skippers sometimes need extra crew for our events. Crew can have a great time and further increase their own experience. To enable skippers and crew to 'connect' we now have a Crew Register so your details can be shared with skippers.