We welcome guest yachts wishing to experience a race with CCRC.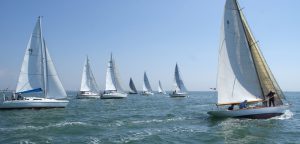 As a guest yacht you will probably race in our Beta fleet and we will allocate you a handicap from the RYA NHC list for your particular yacht class. However, should you have a VPRS handicap you may race in the Alpha fleet. You could also apply for a VPRS handicap (currently just £20 in 2022).
To apply to participate simply complete the form below, accepting our terms and conditions as set out. We will respond to confirm your place.
Depending on the event you may also wish to book a berth and dinner but we will discuss that when confirming your place.
Guest yachts will appear in race results with a time and a position but may not win trophies or other awards.
The race programme and race instructions are published on the web site here.
Note that by submitting this form you agree………
That this yacht will have adequate third party insurance.
The RYA currently recommends and the Club rules state that this shall not be less than the sum of £3,000,000.
That you agree to be bound by ISAF rules, the prescriptions of the RYA, the Chichester Cruiser Racing Club Sailing Instructions and by any relevant Class rules as well as accepting the CCRC Data Privacy Policy.
That you agree to pay all applicable charges related to an event or taking a berth levied by an outside body resulting from my booking if the race or event is cancelled, or if I, for whatever reason, decide not to attend after the booking deadline as set out in the race instructions.
That you have also read and accept the conditions of the club as in the Notice of Race including the Disclaimer of Liability.