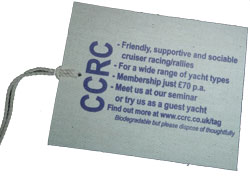 If you found a tag on your boat please forgive us but we are keen to share the benefits of being part of Chichester Cruiser Racing Club with you.
About CCRC
Chichester Cruiser Racing Club is dedicated to cruiser racing with weekend races in Hayling Bay, the Solent and beyond. We are also committed to providing full and friendly assistance for those interested in or new to racing.
Membership and participation in bay and passage races with berthing booked and social events (COVID permitting) most weekends is just £70 p.a.
To provide an introduction to cruiser racing the CCRC is holding a short seminar to give an overview of what you need to know as well as allay any misconceptions you may have (you don't need crew lined up on the rail, nor a gorilla at the winch!).
You could join as a full member with yacht, as crew or start off by coming along as a guest boat.
Click here to find out more about CCRC.
Find Out More At Our Web Meeting
Wednesday 4th May 2022, 7.30pm online
(note that in previous years this has been a physical meeting)
Our meeting will offer an overview of:
Sail and boat preparation and trim
Handicapping
Starts, Course and Finishing
Racing Rules of Sailing
CCRC races and our social side
Q&A and discussion
"I have an ordinary cruising boat but I can still take part in quality racing."
"I am not interested in winning trophies… It is all about having a good day out on the water and the racing gives a focus for that."
"We had never raced before but had great support and now enjoy the competitive challenge."
Frequently Asked Questions
Many questions will be answered on other pages on this web site but here are some common queries:
How long will the meeting last and who will present it?
We aim to conclude a presentation within an hour and then handle questions and discussion. The presenters will be CCRC members.
Do I need a fast yacht?
CCRC races cater for all types of yacht (other than multihulls) which can be described as cruisers. Our two handicapping systems mean that all participants have a chance of success.
Is membership expensive?
Personal membership is just £20 p.a. and yacht registration costs just £50 p.a.
Do I need a big racing crew to be competitive?
No. Some members sail competitively single-handed.
Where is the club based?
CCRC was originally set up by the Chichester Harbour Federation of Clubs, as such we work with other clubs in the harbour and have no clubhouse of our own. You do not need to be a member of another club though many members are.
Where do races take place?
Each year about half of our weekend races take place in Hayling Bay (Bay Races) with members returning to the harbour over Saturday night; other races are typically to a destination within the Solent where we generally have dinner (and results) at a yacht club.
You do not need to be based in Chichester Harbour to be a member – though it helps!
Do I need special yacht insurance?
All yachts participating in a CCRC race must be insured. Most insurers will include club racing at no extra cost on an annual policy.